jeffreys interiors showcase
winter brights
How sumptuous does this master bedroom scheme look? A complete feast for the eyes. Our Duck-Egg Bouquet wallpaper has been used in the panelling which we think looks fabulous!
Cushions in various sizes are scattered in a plethora of patterns which has created little pops of colour throughout the room.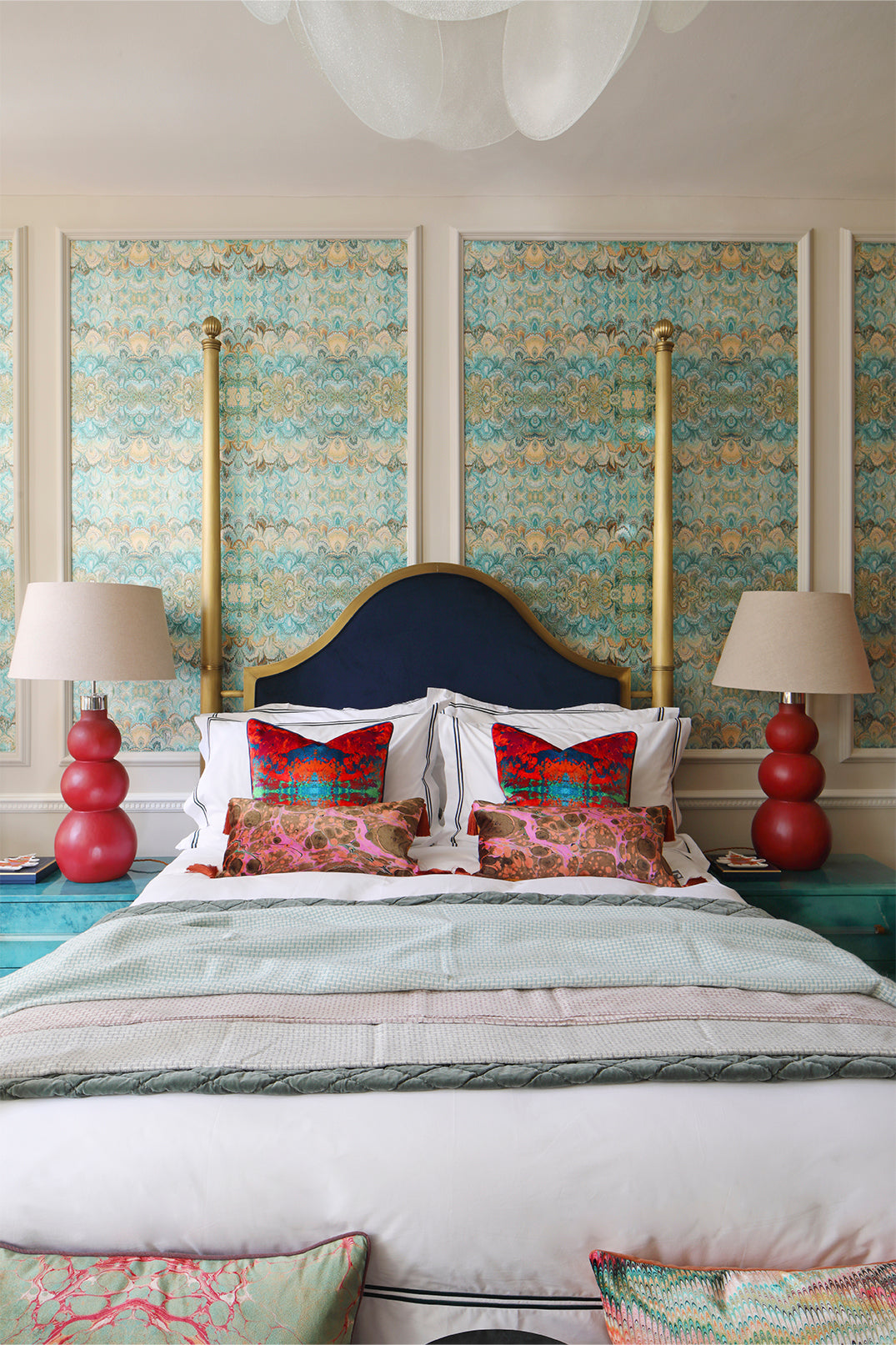 Ruffles and ruches
The ultimate in luxe styling - fringing Experience the epitome of luxury with our fringed cushions.
Our best-selling design Bouquet looks elegant in so many interior schemes. Pairing cushions that are different heights, shapes and textures creates a unique display that you'll want to dive into...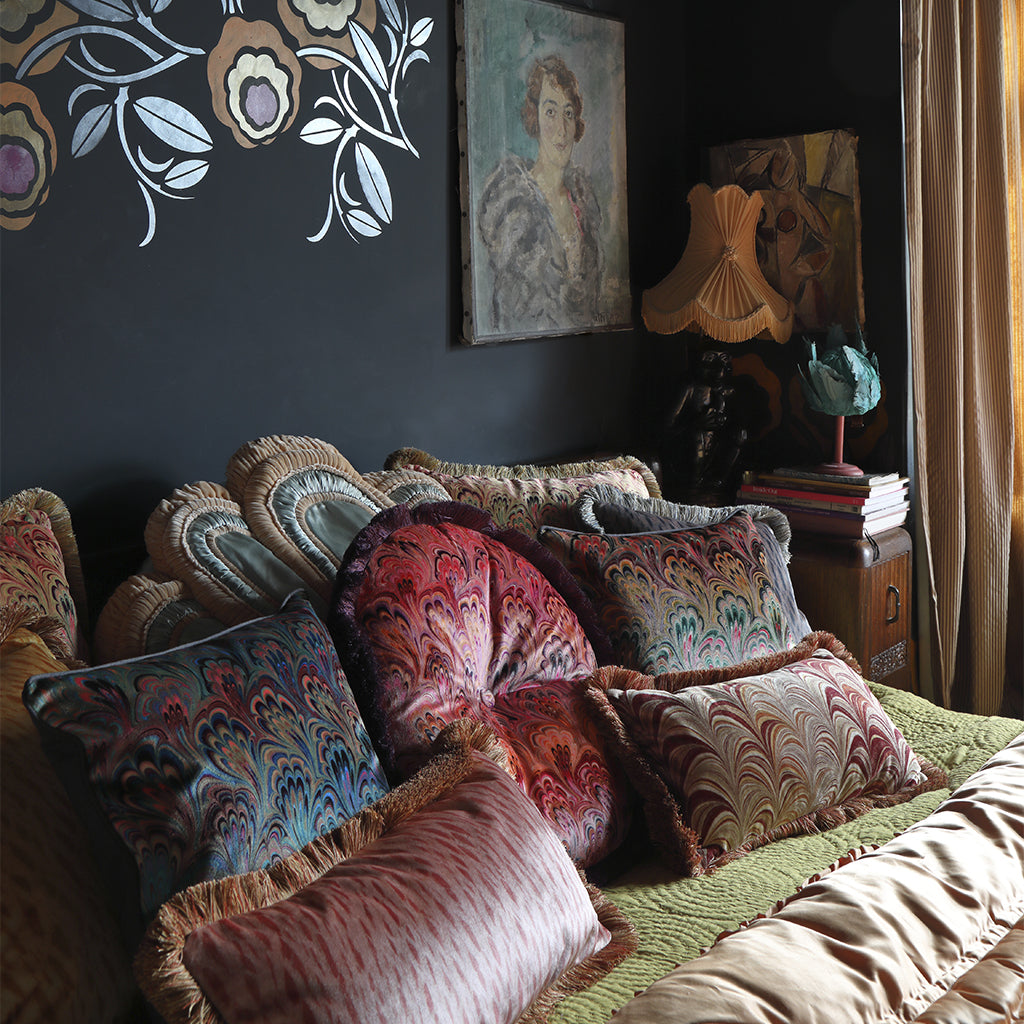 Vintage Living Room Luxe
We love seeing our designs in different styles of interiors and this fabulous room is in the home of vintage collector, Rachel Egglestone aka Madame E Vintage, who has curated a space full of antiques and curios.  Rachel's style of home is early 20th century deco and is an eclectic mix of colour and pattern.  Be bold and mix up our colourful patterns in complimentary tones to create a warm and inviting interior.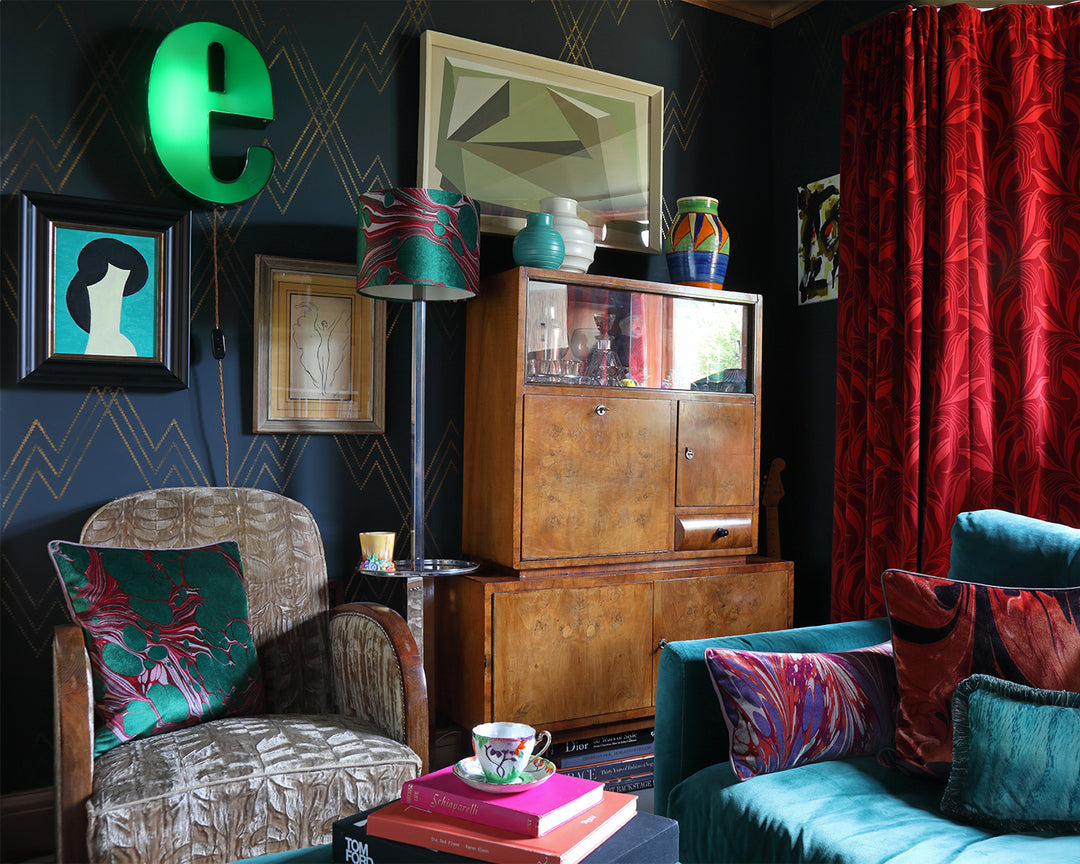 Deco Style Bedroom
Take a nod from the past with a modernist deco style bedroom look full of colour and drama.  We think our Galaxy collection of sumptuous velvet cushions in jewel tones looks fabulous in this interior and gives an inviting boudoir feel to the decor! Mix and match cushions of the same design in different colours and add a ruched oblong for the ultimate in luxury.  A velvet lampshade completes the look.
Rhythmic Luxury Velvet
The prints in our new range centre around intricate and rhythmic marbled motifs in colourways that balance the vivid with the classic. Inspired by the vibrant plumage of exotic birds, Susi created marbled papers to reflect the overlapping layers of their multi-hued feathers. Translated onto plush velvet fabric, these fluctuating ripples are enticing and luxuriant, inviting us to savour their satisfyingly smooth and undulating surfaces.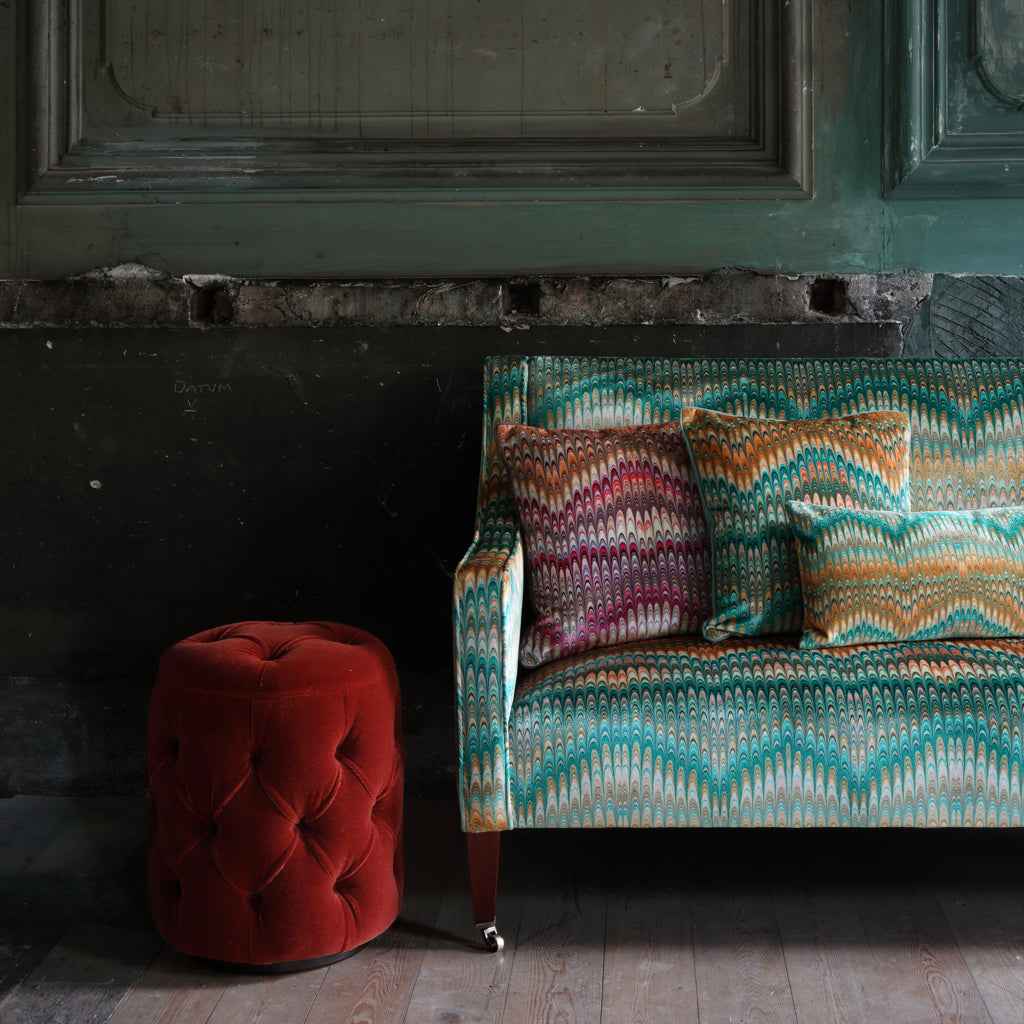 Mix & Match Symmetry
Be playful with our multiple colourway options, which allow you achieve symmetry in your scheme but to be less structured in your approach to interior design.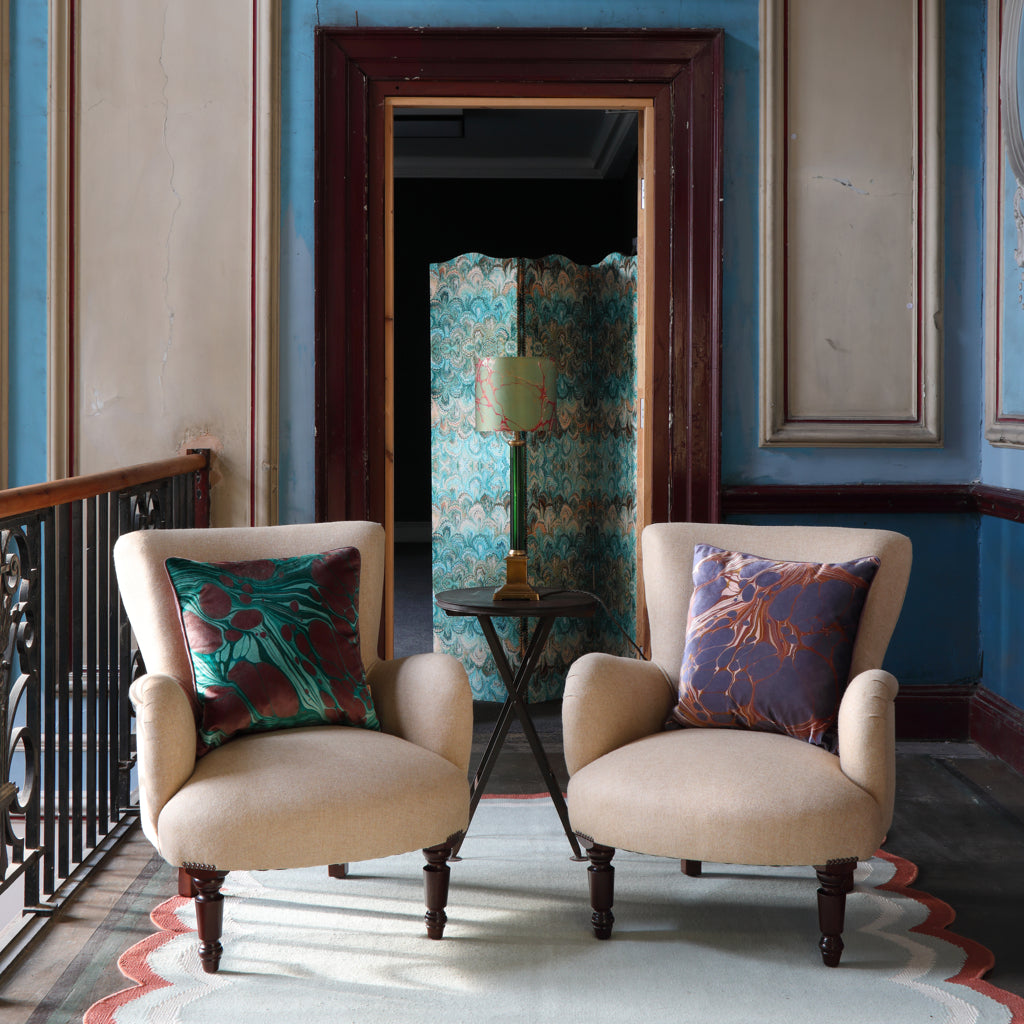 Cushion Chocolate Box
The Romantic Plumage Collection has been designed to sit all together in perfect harmony. This gives you the easiest job in the world selecting which of the cushion designs you like best from this cohesive collection. From large oblongs to our classic square velvet cushions, this collection is grown-up and sophisticated. With a wide range of wallpapers and fabrics in matching prints, you can take maximalism to the highest level.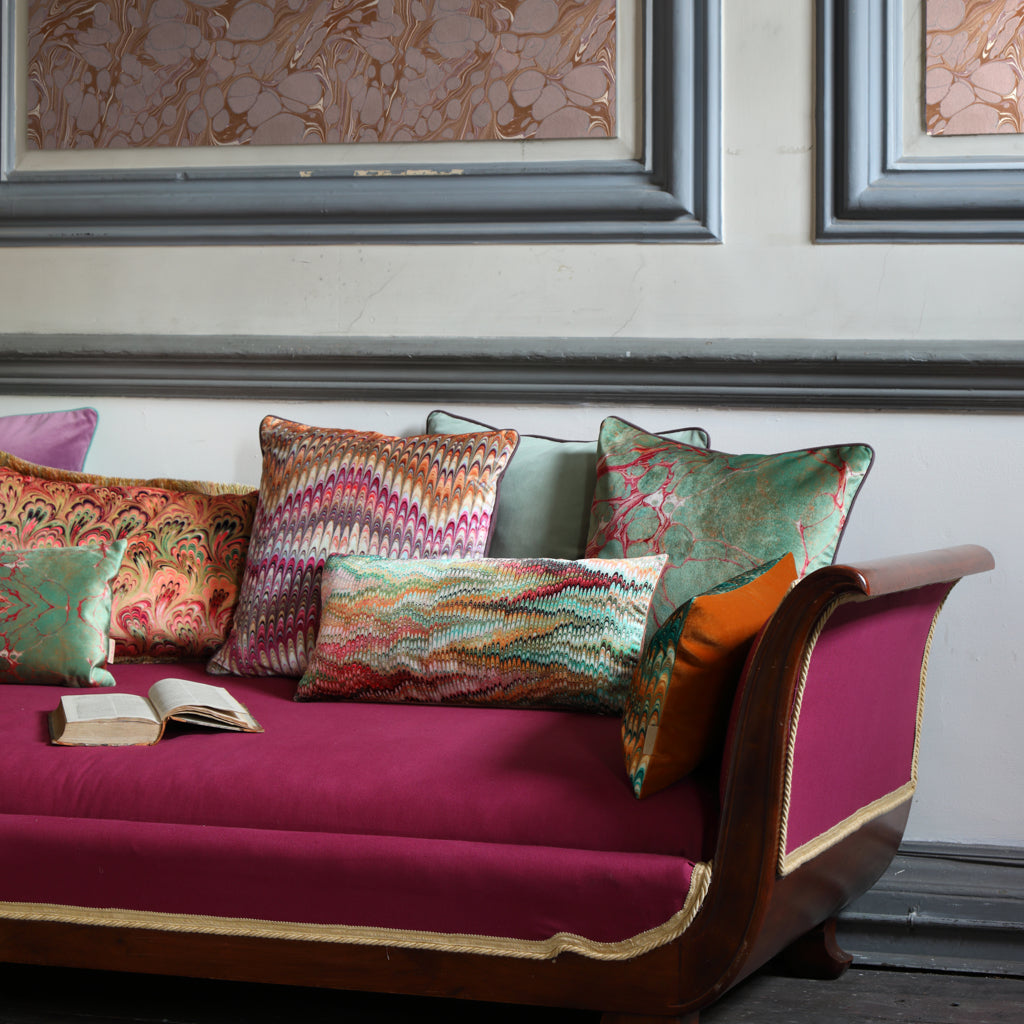 A Bouquet of Velvet
This sumptuous array of plush velvet cushions is reminiscent of the Belle Epoque era at the turn of the last century. The feathery peacock pattern of the Bouquet design is a reinterpretation of natural sensuous shapes and brings to mind glamorous Art Nouveau in European interiors. Create a self-indulgent and luxe boudoir interior with rich colours and decorative ruching trim.  A pair of vintage screen covered in our new Bouquet velvet fabrics are used as a backdrop for maximum effect.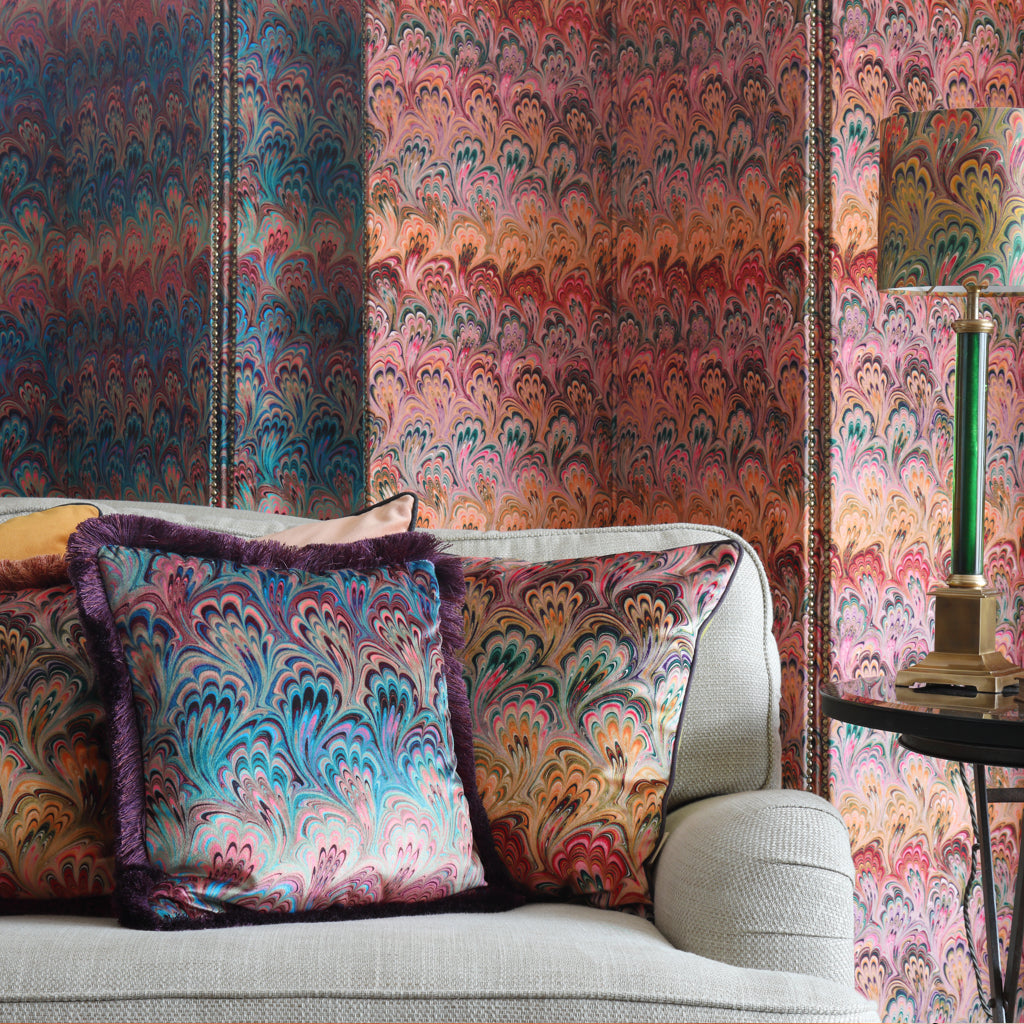 Retro Glamour
Tones of rich mahogany, cobalt blue and shocking violet are incorporated into wood grain textures and shot through with globular bubbles to add inviting new dimensions to familiar retro influences. The vibrant marbled designs in their various hues sit side by side on this plum velvet sofa, paired with the graphic plum and violet lampshade to harmonise against a backdrop of a slatted wooden screen. We love the juxtaposition of the different textures side by side.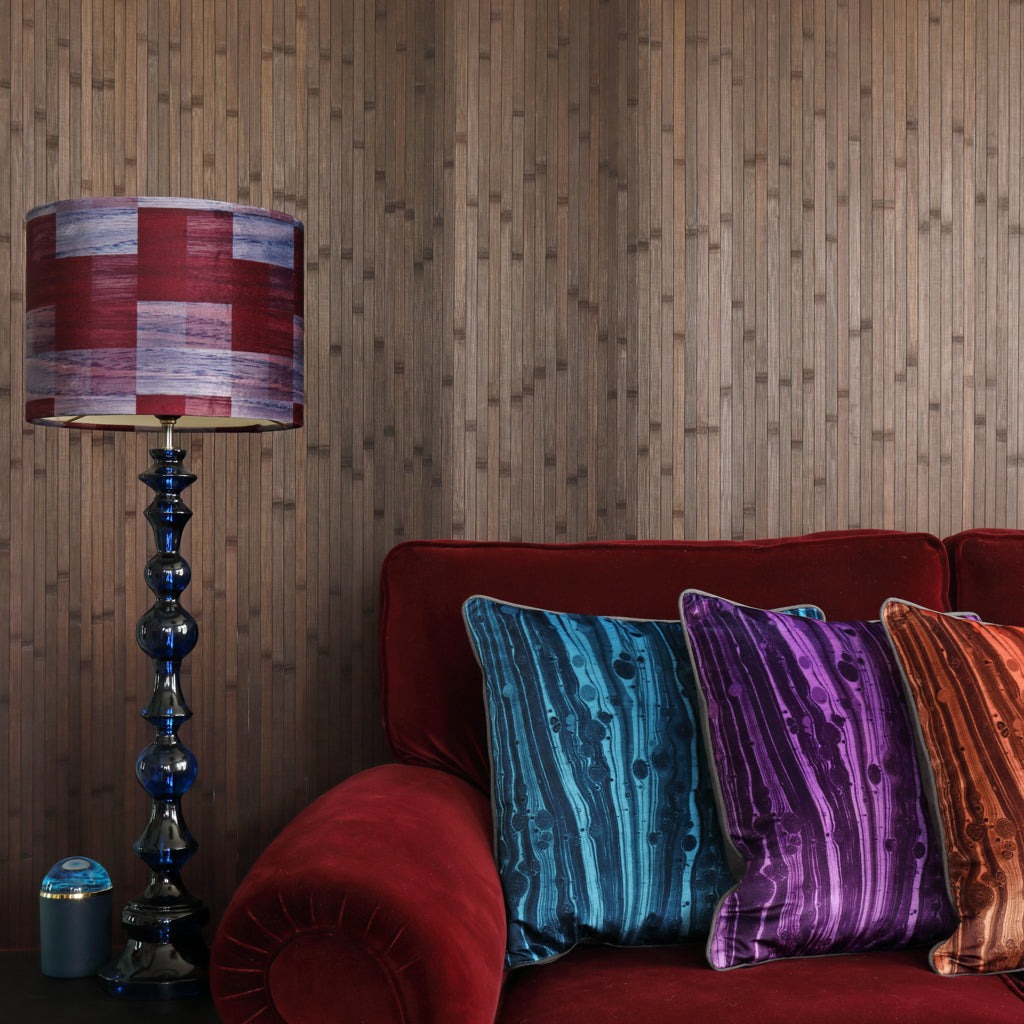 Abstract Bedscape
We are making a landscape of this bed arrangement with our new Dusk Scape velvet cushions set against our velvet plains.  Colour is key to our collection and with our Italian inspired Grey Stucco wallpaper we have created a beautiful space in which to retreat.  Inspired by landscape, Susi's abstract artwork makes reference to Tuscan and Northumberland vistas where the space and light merge together to create beautiful vistas.  Indulge in our colourful creative designs to make your own hideaway….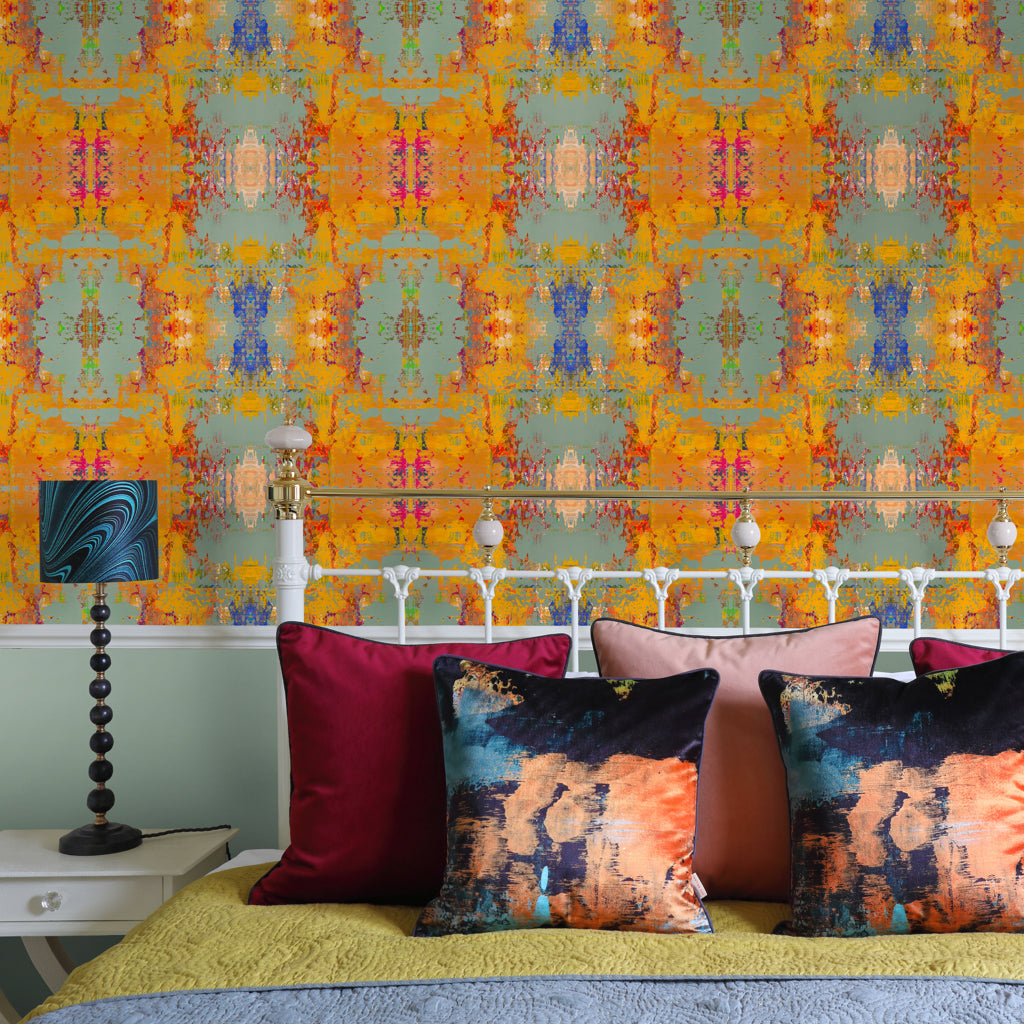 Artistic Expression
Deep Oranges and Cobalt Blues give this new look a modern yet retro feel. The contrast of the colours is hugely striking and the mix of different marbled designs gives a change of scale and pace to the interior. Covering this vintage screen in our new Amber Strata velvet fabric gives you the option of recreating the space as and when it is needed.  The Onyx lamp base is another vintage find as we love to upcycle and reappropriate interior items where possible.  Playing with colour is at the heart  of the Susi Bellamy collection and we always encourage our customers to be bold and play with design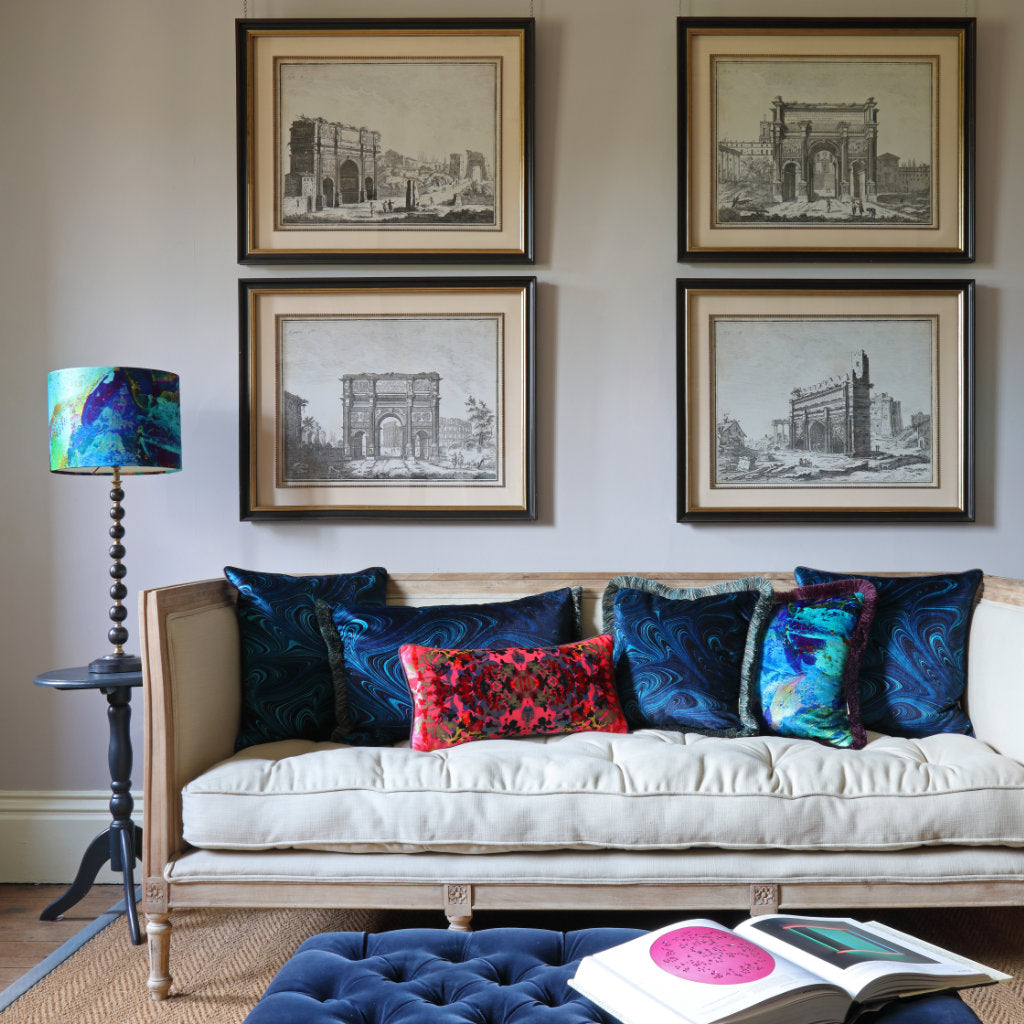 Eclectic Elegance
Embrace the new trend for maximalism by clashing prints and mixing and matching our designs to create an eclectic feel. Our Pietra Blu wallpaper calls to mind the shimmering surface of the sea, lending depth and texture to a space. Our Grey Stucco range incorporates shades of ochre yellow, hot pink and sea green which pairs well with neutral creams and warm colours. A pair of our oblong cushions on matching chairs is the perfectly symmetrical finishing touch to your living space.