Susi Bellamy creates vibrant, colourful interiors based on original and unique artwork painted in the studio, and hand marbled paper designs using traditional techniques. Her artwork is inspired by her great love of colour, her background as a fashion editor and her time working and living in Florence. Susi has an MA in Fine Art from Northumbria University and her work can be found in collections internationally. She now works from Cobalt Studios in the Ouseburn, Newcastle. Further highlighting her passion for colour, Susi is also the chairman of the Colour Collective UK.
Curated Design and Interiors
Artist turned designer Susi Bellamy has created a unique and original brand which is based on her artwork and marbled papers.
Susi's years as a fashion editor and her time living in Florence have also given her an unusual approach to creating her homeware range. She looks to the worlds of fine art, fashion and design to understand the core trends and colour palettes of the moment. Each design is considered and the ranges are designed to be mixed-and-matched with each other or used individually in a interior to add a splash of colour!
Colour is central to Susi's process and each product in the range is made in England - something that Susi feels is important. "I wanted to work with local makers because it honours the integrity of the product and the design. It's about quality and luxury, as well as creating something that is beautiful to look at." 
She has recently begun to collaborate with other brands to see her designs taken to another level. "Its almost like working on an installation piece and I love to see how other designers play with my fabrics to create new pieces'. Never one to hold back, Susi believes that interiors should be inspiring and joyful and that she hopes her genuine enthusiasm for pattern and colour will inspire her customers to be creative in their own homes. "Just one colourful cushion or lampshade in a dark corner of a house can lift a space and act as a piece of art would - the idea of the curated home where you can be fully expressed!"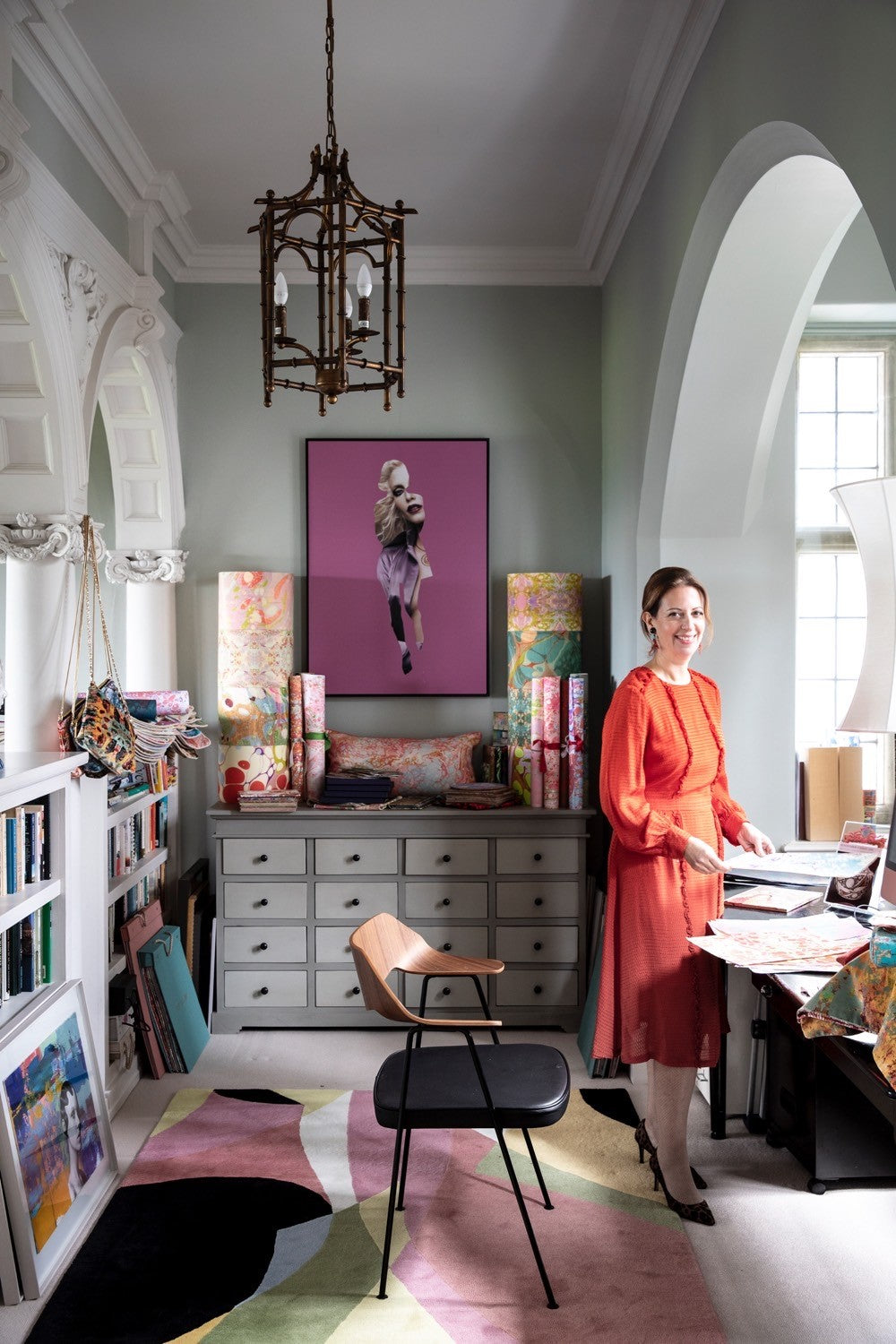 From Palette to Print
Susi practiced as an artist for many years before she came up with the idea of 'art for the sofa'. It was when she cropped one of her large abstract paintings into smaller squares in her studio in Newcastle, England, that the idea came about. 
Coupled with her time living in Florence when she was further inspired by her Italian environment, she also learnt the ancient craft of paper marbling which led to the beautiful marbled designs. Susi continues to paint in both oil and acrylic and designs such as Azure Abstract are recent additions to the collection and are taken from her original paintings. 
She also now 'curates' her marbled designs by working uniquely on patterns with colour and form in her mind when creating them. Full of texture and subtle mark makings, the designs are then digitally transferred to luxurious velvet, natural linen and silk as well as to wallpaper. This high quality printing process harnesses the rich texture of the artwork onto the surface and emphasises the dynamism and depth of her designs.  The end result is a truly unique and colourful brand that is firmly rooted in Susi's art practice.
ALL FEMALE BUSINESS
Susi Bellamy is a homeware brand like no other.  Colour is the driving force behind the uniquely British brand. Evolving from time spent in Florence, creating stunning marbled papers and original artworks, the idea was born to create 'Art for the Sofa. Since then the range has expanded enormously, becoming the go to brand for dazzling and unique fabrics, cushions, wallpaper and lampshades. Susi herself is an artist and designer, with a trained eye for styling. The Susi Bellamy brand is the heart and soul of the founder, allowing the customer to feel as much joy purchasing these items as the team do creating them. Susi works in an 'all female' environment and Lauren Lansbury has joined her full time to help run the business. With the addition of interns from Northumbria University and freelance textile designers, Susi is keen to employ local females to help grow the brand and support employment in the North East of England.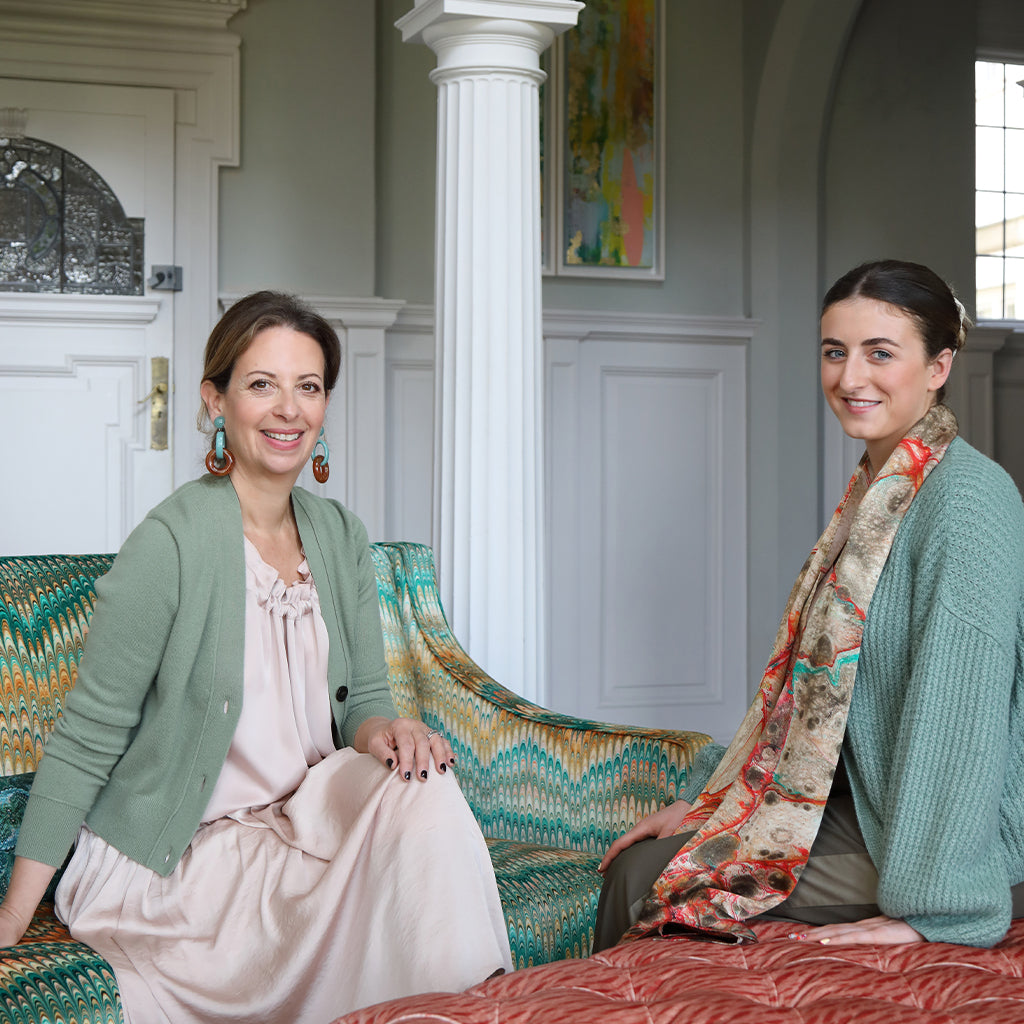 The designs feature rich texture and subtle mark making created in Susi's paintings and papers are digitally transferred to luxurious velvet, crisp cotton, natural linen and silk as well as to wallpaper. This high quality printing process harnesses the rich texture of the artwork onto the surface and emphasises the dynamism and depth of her designs.

Susi Bellamy's collection is made in England from start to finish using the highest quality materials. Each design punctuates any interior with flashes of visual impact in a range of colour combinations. The designs work in conjunction with each other to create a maximalist explosion of colour, or individually as a statement piece to add a striking colour accent to any room. Their combination of uniqueness, colour and vibrancy will impact any interior in the same way as a piece of artwork.